Sunday Morning Worship 11 21 2021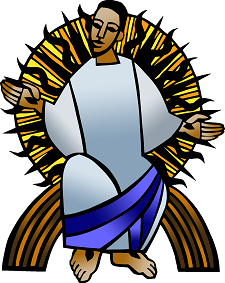 Order of Worship
Christ the King Sunday
November 21, 2021

+GATHERING+
WELCOME AND ANNOUNCEMENTS
PRELUDE
CONFESSION AND FORGIVENESS
Blessed be the holy Trinity + one God, who forgives all our sin, whose mercy endures forever.
Amen.

Almighty God,
to whom all hearts are open, all desires known,
and from whom no secrets are hid:
cleanse the thoughts of our hearts
by the inspiration of your Holy Spirit,
that we may perfectly love you and worthily magnify your holy name,
through Jesus Christ our Lord.
Amen.
Let us confess our sin in the presence of God and of one another.

Silence is kept for reflection.
Gracious God,
have mercy on us.
We confess that we have turned from you
and given ourselves into the power of sin.
We are truly sorry and humbly repent.
In your compassion forgive us our sins,
known and unknown,
things we have done
and things we have failed to do.
Turn us again to you,
and uphold us by your Spirit,
so that we may live and serve you in newness of life
through Jesus Christ, our Savior and Lord.
Amen.
God, who is rich in mercy, loved us
even when we were dead in sin,
and made us alive together with Christ.
By grace we have been saved.
May Almighty God strengthen us with power
through the Holy Spirit,
that Christ may live in our hearts through faith.
Amen.
HYMN
Come Thou Almighty King
ELW 408 (vs. 1,2,4)
Come, thou almighty King,
help us thy name to sing;
help us to praise;
Father all-glorious,
o'er all victorious,
come and reign over us,
Ancient of Days.
Come, thou incarnate Word,
merciful, mighty Lord;
our prayer attend.
Come and thy people bless,
and give thy word success,
and let thy righteousness
on us descend.
To thee, great One in Three,
eternal praises be
hence evermore!
Thy sov'reign majesty
may we in glory see,
and to eternity
love and adore.
GREETING
The grace of our Lord Jesus Christ, the love of God, and the communion of the Holy Spirit be with you all.
And also with you.

PRAYER OF THE DAY
Let us pray.
Almighty and ever-living God, you anointed your beloved Son to be priest and sovereign forever. Grant that all the people of the earth, now divided by the power of sin, may be united by the glorious and gentle rule of Jesus Christ, our Savior and Lord, who lives and reigns with you and the Holy Spirit, one God, now and forever.
Amen.
+WORD +
FIRST READING Daniel 7:9-10, 13-14
To the community for whom this passage was written, it seemed as though the oppression they were experiencing would never end. Daniel's message is: It shall end. The Ancient One, who is judge, will call all nations to account and will give dominion to "one like a human being," the Messiah.
9As I watched,
thrones were set in place,
and an Ancient One took his throne,
his clothing was white as snow,
and the hair of his head like pure wool;
his throne was fiery flames,
and its wheels were burning fire.
10A stream of fire issued
and flowed out from his presence.
A thousand thousands served him,
and ten thousand times ten thousand stood attending him.
The court sat in judgment,
and the books were opened.
13As I watched in the night visions,
I saw one like a human being
coming with the clouds of heaven.
And he came to the Ancient One
and was presented before him.
14To him was given dominion
and glory and kingship,
that all peoples, nations, and languages
should serve him.
His dominion is an everlasting dominion
that shall not pass away,
and his kingship is one
that shall never be destroyed.
Psalm 93 (read responsively by full verse)
1The LORD is king, he is robed in majesty;
the LORD is robed, he is girded with strength.
He has established the world; it shall never be moved;
2your throne is established from of old;
you are from everlasting.
3The floods have lifted up, O LORD,
the floods have lifted up their voice;
the floods lift up their roaring.
4More majestic than the thunders of mighty waters,
more majestic than the waves of the sea,
majestic on high is the LORD!
5Your decrees are very sure;
holiness befits your house,
O LORD, forevermore.
GOSPEL: John 18:33-37
In John's gospel, the story of Jesus and Pilate presents two different ways of exercising power: through force or with love.
The holy gospel according to John.
Glory to you, O Lord.
33Pilate entered the headquarters again, summoned Jesus, and asked him, "Are you the King of the Jews?" 34Jesus answered, "Do you ask this on your own, or did others tell you about me?" 35Pilate replied, "I am not a Jew, am I? Your own nation and the chief priests have handed you over to me. What have you done?" 36Jesus answered, "My kingdom is not from this world. If my kingdom were from this world, my followers would be fighting to keep me from being handed over to the Jews. But as it is, my kingdom is not from here." 37Pilate asked him, "So you are a king?" Jesus answered, "You say that I am a king. For this I was born, and for this I came into the world, to testify to the truth. Everyone who belongs to the truth listens to my voice."
The gospel of the Lord.
Praise to you, O Christ.
SERMON
HYMN
Lift High the Cross
ELW 660 (vs 1,3,4)
Refrain
Lift high the cross, the love of Christ proclaim
till all the world adore his sacred name.
Come, Christians, follow where our captain trod,
our king victorious, Christ, the Son of God. Refrain
O Lord, once lifted on the glorious tree,
as thou hast promised, draw us all to thee. Refrain
So shall our song of triumph ever be:
praise to the Crucified for victory! Refrain
APOSTLES' CREED

I believe in God, the Father almighty,
creator of heaven and earth.
I believe in Jesus Christ, God's only Son,
our Lord,
who was conceived by the Holy Spirit,
born of the virgin Mary,
suffered under Pontius Pilate,
was crucified, died, and was buried;
he descended to the dead.
On the third day he rose again;
he ascended into heaven,
he is seated at the right hand of the Father,
and he will come to judge the living
and the dead.
I believe in the Holy Spirit,
the holy catholic church,
the communion of saints,
the forgiveness of sins,
the resurrection of the body,
and the life everlasting. Amen.
PRAYERS OF THE PEOPLE
Eternal God, you hold firm amid the changes of this world. Hear us now as we pray for the church, the world, and everyone in need.

A brief silence.
God, you sent your Son Jesus to testify to the truth. We pray for preachers, missionaries, evangelists, and teachers who carry your forgiveness and love to the world. Fill their words and actions with compassion and kindness so that your truth will shine.
God, in your mercy,
hear our prayer.
God, you sent your Son Jesus to liberate all of creation. We pray for all living things longing for the freedom to flourish, from ancient trees and wild grasses to endangered animals and rare insects. Give human beings compassionate hearts to care for them.
God, in your mercy,
hear our prayer.
God, you sent your Son Jesus to lead us into the way of peace. Direct the members of international alliances in choosing a nonviolent path toward the future. Give them the humility and wisdom to make just decisions to benefit all.
God, in your mercy,
hear our prayer.
God, you sent your Son Jesus to make us into your own people, set free to serve you. We pray for people who serve the well-being of others, especially ministries in our community. Renew them in their work.
God, in your mercy,
hear our prayer.
God, you sent your Son Jesus to rule in all times and places. We pray for the friends of our congregation who are unable to join our worship in person and for all who are sick and suffering, particularly Alena, Jenna, Margaret, Anna Mae, Julie, Alan, Ken, Carol, Anne, Allen, JoAnn, Sue, Meagan, Betty, Sharon, Dione, Nancy, Dottie, Theresa, Bobby, Dottie, Tim, Ruth, Henry, Mary, Greg, Ann Joyce, Barbara, and Shelby. Join their prayers with ours and unite them with us in the body of Christ.
God, in your mercy,
hear our prayer.
God, you sent your Son Jesus to be our beginning and our ending. We give thanks for those whose lives have given us a glimpse of Jesus' reign of justice and peace. Empower us to join their witness.
God, in your mercy,
hear our prayer.
God our hope and strength, we entrust to you all for whom we pray. Remain with us always, through Jesus Christ, our Savior.
Amen.
GREETING OF PEACE
The peace of the Lord be with you.
And also with you.
+ THANKSGIVING +
During this time of pandemic, we are not passing offering plates during our worship service. Instead, they are placed at the back of the sanctuary. You may place your offerings there either before or after the service. Alternatively, some are using Tithe.ly for online giving or are using their bank's online banking option. Whichever way you choose to give, we are grateful for your stewardship and generosity.
OFFERING PRAYER
God of abundance, you cause streams to break forth in the desert and manna to rain from the heavens. Accept the gifts you have first given us. Unite them with the offering of our lives to nourish the world you love so dearly; through Jesus Christ, our Savior and Lord.
Amen.
CANTICLE
Salvation belongs to our God and to Christ the Lamb forever and ever.
Great and wonderful are your deeds, O God of the universe; just and true are your ways, O Ruler of all the nations. Who can fail to honor you, Lord, and sing the glory of your name? Salvation belongs to our God and to Christ the Lamb forever and ever.
For you alone are the Holy One, and blessed is the one whose name is the Word of God. All praise and thanks to you, holy God! Salvation belongs to our God and to Christ the Lamb forever and ever.
THANKSGIVING FOR THE WORD
O God of justice and love, we give thanks to you that you illumine our way through life with the words of your Son. Give us the light we need, awaken us to the needs of others, and at the end bring all the world to your feast; through Jesus Christ, our Savior and Lord, to whom, with you and the Holy Spirit, be honor and glory forever.
Amen.
LORD'S PRAYER
Our Father, who art in heaven,
hallowed be thy name
thy kingdom come,
thy will be done,
on earth as it is in heaven.
Give us this day our daily bread;
and forgive us our trespasses,
as we forgive those
who trespass against us;
and lead us not into temptation,
but deliver us from evil.
For thine is the kingdom,
and the power, and the glory,
forever and ever. Amen.
+ SENDING +
BLESSING
HYMN
Crown Him with Many Crowns
ELW 855 (vs. 1,4,5)
Crown him with many crowns,
the Lamb upon his throne;
hark, how the heav'nly anthem drowns
all music but its own.
Awake, my soul, and sing
of him who died for thee,
and hail him as thy matchless king
through all eternity.
Crown him the Lord of life,
who triumphed o'er the grave
and rose victorious in the strife
for those he came to save.
His glories now we sing,
who died and rose on high,
who died, eternal life to bring,
and lives that death may die.
Crown him the Lord of years,
the potentate of time,
creator of the rolling spheres,
ineffably sublime.
All hail, Redeemer, hail!
For thou hast died for me;
thy praise and glory shall not fail
throughout eternity.
DISMISSAL
Go in peace. Serve the Lord.
Thanks be to God!
POSTLUDE
COMMEMORATION
Justus Falckner, died 1723; Jehu Jones, died 1852; William Passavant, died 1894; pastors in North America
Wednesday, November 24, 2021
Not only was Falckner the first Lutheran ordained in North America, but he published a catechism which was the first Lutheran book published on the continent. Jones was the Lutheran church's first African American pastor and carried out missionary work in Philadelphia which led to the formation there of the first African American Lutheran congregation (St. Paul's). William Passavant helped to establish hospitals and orphanages in a number of cities and was the first to introduce deaconesses to the work of hospitals in the United States.
---
Come, Thou Almighty King, Text: source unknown, c. 1757, alt. Music: Felice de Giardini, 1716-1796. Public domain.
Liturgical Text, Music, and Images from Evangelical Lutheran Worship, © 2006 and 2020 Augsburg Fortress and SundaysandSeasons.com. Reprinted and/or streamed with permission under Augsburg Fortress Liturgies License #SAS016761. All rights reserved.
Lift High the Cross, Text: George W. Kitchin, 1827-1912; rev. Michael R. Newbolt, 1874-1956. Music: Sydney H. Nicholson, 1875-1947. Text and music © 1974 Hope Publishing Company. Text and music reprinted and/or streamed with permission under OneLicense A-722274. All right reserved.
Crown Him with Many Crowns, Text: Matthew Bridges, 1800-1894, sts. 1-3,5; Godfrey Thring, 1823-1903, st. 4. Music: George J. Elvey, 1816-1893. Public domain.