Sunday Morning Worship 12 19 2021

Order of Worship
Fourth Sunday of Advent
December 19, 2021
+ GATHERING +
WELCOME AND ANNOUNCEMENTS
LIGHTING OF THE ADVENT WREATH
God of Joy, we come before you with eager hearts. We still
wait in hope, and yet we are filled with your song of love. We
light candles trusting that the smallest flame can drive out
our greatest fears. We anticipate your coming among us with
peace and thankfulness. As we await your coming, light a
flame within us:
MAY WE SHINE WITH THE BRIGHTNESS OF YOUR HOPE.

God of Joy, as we light this fourth candle, we remember with
gratitude the song you placed in Mary's heart. May we know
the joy of your presence. Open our hearts to meet friends and
neighbors with the same welcome Elizabeth gave Mary. May
our joy be multiplied. Light a flame within us:
MAY WE SHINE WITH THE BRIGHTNESS OF YOUR JOY.

God of Joy, we remember today our brothers and sisters in
Africa and beyond who work and steward the land to provide
for their families. Incline our hearts to listen to their prayers.
Teach us to sing a song of hope, and to join our voices as
one. Let us share our abundance so that others may not only
survive, but thrive. Light a flame within us:
MAY WE SHINE WITH THE BRIGHTNESS OF YOUR HOPE.

God of Joy, keep our spirits rejoicing and proclaiming the
holiness of God's name.
GUIDE US IN THESE ADVENT DAYS UNTIL OUR SAVIOR IS
BORN AMONG US.

Turn our attention to you, the One who is our song, our hope
and our joy. We pray all this in the name of Jesus, the light
that has no end.
AMEN.


PRELUDE
CONFESSION AND FORGIVENESS
Let us confess our sin, trusting in the tender mercy of our God.
God for whom we wait
in the presence of one another,
we confess our sin before you.
We fail in trusting that your good news is for us and for all.
We falter in your call to us to tend to your good creation.
We look to material wealth to reflect our value.
We reject those who are different from ourselves.
We do not live as your beloved children and
we turn away from your love and mercy.
Forgive us we pray
and assure us again of your saving grace.
Amen.
In Christ Jesus, God has looked upon us with favor.
Hear this good news.
Through the power of the Holy Spirit,
+ your sins are forgiven.
You are children of the Most High,
Heirs of the eternal promises
and recipients of divine mercy
Amen.

HYMN O Come, O Come, Emmanuel
ELW 257 (vs. 1,4,6)
O come, O come, Emmanuel,
and ransom captive Israel,
that mourns in lonely exile here
until the Son of God appear.
Refrain
Rejoice! Rejoice! Emmanuel
shall come to you, O Israel.
O come, O Branch of Jesse, free
your own from Satan's tyranny;
from depths of hell your people save,
and give them vict'ry o'er the grave. Refrain
O come, O Dayspring, come and cheer;
O Sun of justice, now draw near.
Disperse the gloomy clouds of night,
and death's dark shadow put to flight. Refrain
GREETING
The grace of our Lord Jesus Christ, the love of God, and the communion of the holy spirit be with you all.
And also with you.
KYRIE
ELW 154
Lord, have mercy. Christ, have mercy.
Lord, have mercy; have mercy, O Lord.
PRAYER OF THE DAY
Let us pray.
Stir up your power, Lord Christ, and come. With your abundant grace and might, free us from the sin that binds us, that we may receive you in joy and serve you always, for you live and reign with the Father and the Holy Spirit, one God, now and forever.
Amen.

+ WORD +
FIRST READING Micah 5:2-5a
The prophet Micah, having pronounced judgment upon Judah, speaks of a future shepherd-king who, like David, will come from the small town of Bethlehem. (Ephrathah refers to the area around Bethlehem.) This king will restore Israel and bring peace. New Testament writers understood this passage to be referring to Jesus.

2 But you, O Bethlehem of Ephrathah,
who are one of the little clans of Judah,
from you shall come forth for me
one who is to rule in Israel,
whose origin is from of old,
from ancient days.
3Therefore he shall give them up until the time
when she who is in labor has brought forth;
then the rest of his kindred shall return
to the people of Israel.
4And he shall stand and feed his flock in the strength of the LORD,
in the majesty of the name of the LORD his God.
And they shall live secure, for now he shall be great
to the ends of the earth;
5and he shall be the one of peace.
If the Assyrians come into our land
and tread upon our soil,
we will raise against them seven shepherds
and eight installed as rulers.
The word of the Lord.
Thanks be to God.
PSALM: 80:1-7 (read responsively by full verse)
1Give ear, O Shepherd of Israel,
you who lead Joseph like a flock!
You who are enthroned upon the cherubim, shine forth
2before Ephraim and Benjamin and Manasseh.
Stir up your might,
and come to save us!
3Restore us, O God;
let your face shine, that we may be saved.
4O Lord GOD of hosts,
how long will you be angry with your people's prayers?
5You have fed them with the bread of tears,
and given them tears to drink in full measure.
6You make us the scorn of our neighbors;
our enemies laugh among themselves.
7Restore us, O God of hosts;
let your face shine, that we may be saved.
SECOND READING: Hebrews 10:5-10
The author of Hebrews uses the image of religious sacrifice to convey the significance of Christ's coming. Through obedient acceptance of God's will, Christ allows his own body to become the greatest sacrifice of all, one through which we are made a holy people.

5Consequently, when Christ came into the world, he said,
"Sacrifices and offerings you have not desired,
but a body you have prepared for me;
6in burnt offerings and sin offerings
you have taken no pleasure.
7Then I said, 'See, God, I have come to do your will, O God'
(in the scroll of the book it is written of me)."
8When he said above, "You have neither desired nor taken pleasure in sacrifices and offerings and burnt offerings and sin offerings" (these are offered according to the law), 9then he added, "See, I have come to do your will." He abolishes the first in order to establish the second. 10And it is by God's will that we have been sanctified through the offering of the body of Jesus Christ once for all.
The word of the Lord.
Thanks be to God.
GOSPEL ACCLAMATION
ELW 175
Alleluia, alleluia, alleluia, alleluia.
Alleluia, alleluia, alleluia, alleluia.
GOSPEL Luke 1:39-56
Elizabeth, John's mother, and Mary, the mother of Jesus, are two women filled with the Holy Spirit and with faith. In Elizabeth's inspired greeting and Mary's song of praise we hear of a saving God who remembers, scatters, lifts up, and fulfills all things.
The holy gospel according to Luke.
Glory to you, O Lord.
39In those days Mary set out and went with haste to a Judean town in the hill country, 40where she entered the house of Zechariah and greeted Elizabeth. 41When Elizabeth heard Mary's greeting, the child leaped in her womb. And Elizabeth was filled with the Holy Spirit 42and exclaimed with a loud cry, "Blessed are you among women, and blessed is the fruit of your womb. 43And why has this happened to me, that the mother of my Lord comes to me? 44For as soon as I heard the sound of your greeting, the child in my womb leaped for joy. 45And blessed is she who believed that there would be a fulfillment of what was spoken to her by the Lord."
46And Mary said,
"My soul magnifies the Lord,
47and my spirit rejoices in God my Savior,
48for he has looked with favor on the lowliness of his servant.
Surely, from now on all generations will call me blessed;
49for the Mighty One has done great things for me,
and holy is his name.
50His mercy is for those who fear him
from generation to generation.
51He has shown strength with his arm;
he has scattered the proud in the thoughts of their hearts.
52He has brought down the powerful from their thrones,
and lifted up the lowly;
53he has filled the hungry with good things,
and sent the rich away empty.
54He has helped his servant Israel,
in remembrance of his mercy,
55according to the promise he made to our ancestors,
to Abraham and to his descendants forever."
56And Mary remained with her about three months and then returned to her home.
The gospel of the Lord.
Praise to you, O Christ.
SERMON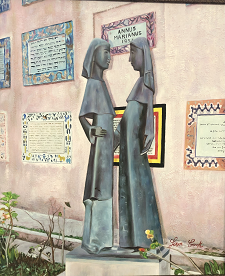 HYMN OF THE DAY
Savior of the Nations, Come
ELW 263 (vs. 1,2,6)
Savior of the nations, come;
virgin's son, make here your home.
Marvel now, O heav'n and earth:
God has chosen such a birth.
Not by human flesh and blood,
but the mystic Breath of God,
was the Word of God made flesh,
fruit of woman, blossom fresh.
Praise we sing to Christ the Lord,
virgin's son, incarnate Word!
To the holy Trinity
praise we sing eternally!
APOSTLES' CREED
I believe in God, the Father almighty,
creator of heaven and earth.
I believe in Jesus Christ, God's only Son, our Lord,
who was conceived by the Holy Spirit,
born of the virgin Mary,
suffered under Pontius Pilate,
was crucified, died, and was buried;
he descended to the dead.
On the third day he rose again;
he ascended into heaven,
he is seated at the right hand of the Father,
and he will come to judge the living and the dead.
I believe in the Holy Spirit,
the holy catholic church,
the communion of saints,
the forgiveness of sins,
the resurrection of the body,
and the life everlasting. Amen.
PRAYERS OF THE PEOPLE
In this season of watching and waiting, let us pray for all people and places that yearn for God's presence.

A brief silence.
Nurturing God, you give us life and care for our every need. Use the church's gifts and ministries for your service, bringing your word to all who seek your transforming grace.
Hear us, O God.
Your mercy is great.
Creator God, you proclaim your boundless love for all that you have made. Renew barren lands, polluted waters, and melting ice caps. Make us servants of your creation that brings forth abundant life.
Hear us, O God.
Your mercy is great.
Righteous God, you bring down the mighty and lift up the lowly. Strengthen those who seek justice. Bless the work of community organizers, activists, journalists, and all who call our attention to imbalances of power.
Hear us, O God.
Your mercy is great.
Compassionate God, you proclaim your love and mercy. Show your lovingkindness to teen parents and those who are pregnant. Comfort any struggling with infertility and those who await test results, are in treatment and hospice care, and others in need, particularly Alena, Jenna, Margaret, Anna Mae, Julie, Alan, Ken, Carol, Anne, Allen JoAnn, Meagan, Betty, Jane, Dione, Dottie, Theresa, Dottie, Tim, Julie, Ruth, Henry, Mary, Greg, Ann Joyce, Barbara, and Shelby.
Hear us, O God.
Your mercy is great.
Gracious God, you fill the hungry with good things. Bless the feeding ministries of this congregation and community. Guide us to share your bounty with those who hunger or live in poverty.
Hear us, O God.
Your mercy is great.
Faithful God, you stir up the hearts of those who love you. We give you thanks for those who, like Mary, were courageous in their witness (especially). Give us such courage until that day when you fulfill all things.
Hear us, O God.
Your mercy is great.
God of new life, you come among us in the places we least expect. Receive these prayers and those of our hearts, in the name of Jesus.
Amen.
GREETING OF PEACE
The peace of the Lord be with you.
And also with you.
+ MEAL +

We are resuming the passing of the offering plate during the service. Alternatively, some are using Tithe.ly for online giving or are using their bank's online banking option. Whichever way you choose to give, we are grateful for your stewardship and generosity.
OFFERING PRAYER
God of our waiting and watching, we offer the gifts of our hearts and our lives vto the service of all your people. Prepare the way before us as we meet you in this simple meal, through Christ Jesus, who is peace.
Amen.
THE GREAT THANKSGIVING
DIALOGUE
The Lord be with you.
And also with you.

Lift up your hearts.
We lift them to the Lord.

Let us give thanks to the Lord our God.
It is right to give our thanks and praise.

PREFACE FOR ADVENT
It is indeed right, our duty and our joy, that we should at all times and in all places
give thanks and praise to you, almighty and merciful God, through our Savior Jesus Christ.
You comforted your people with the promise of the Redeemer,
through whom you will also make all things new
in the day when he comes to judge the world in righteousness.
And so, with all the choirs of angels,
with the church on earth and the hosts of heaven,
we praise your name and join their unending hymn:
HOLY, HOLY, HOLY
ELW Setting Three, p 144
Holy, holy, holy Lord, God of pow'r and might,
heaven and earth are full of your glory.
Hosanna. Hosanna. Hosanna in the highest.
Blessed is he who comes in the name of the Lord.
Hosanna in the highest.
THANKSGIVING AT THE TABLE
Holy One, the beginning and the end, the giver of life: Blessed are you for the birth of creation. Blessed are you in the darkness and in the light. Blessed are you for your promise to your people. Blessed are you in the prophets' hopes and dreams. Blessed are you for Mary's openness to your will. Blessed are you for your Son Jesus, the Word made flesh.
In the night in which he was betrayed, our Lord Jesus took bread, and gave thanks; broke it, and gave it to his disciples, saying: Take and eat; this is my body, given for you. Do this for the remembrance of me.
Again, after supper, he took the cup, gave thanks, and gave it for all to drink, saying: This cup is the new covenant in my blood, shed for you and for all people for the forgiveness of sin. Do this for the remembrance of me.
Let us proclaim the mystery of faith:
Christ has died.
Christ is risen.
Christ will come again.
With this bread and cup we remember your Word dwelling among us, full of grace and truth. We remember our new birth in his death and resurrection. We look with hope for his coming.
Come, Lord Jesus.
Holy God, we long for your Spirit. Come among us. Bless this meal. May your Word take flesh in us. Awaken your people. Fill us with your light. Bring the gift of peace on earth.
Come, Holy Spirit.
All praise and glory are yours, Holy One of Israel, Word of God incarnate, Power of the Most High, one God, now and forever.
Amen.
LORD'S PRAYER
Our Father, who art in heaven,
hallowed be thy name,
thy kingdom come,
thy will be done,
on earth as it is in heaven.
Give us this day our daily bread;
and forgive us our trespasses,
as we forgive those
who trespass against us;
and lead us not into temptation,
but deliver us from evil.
For thine is the kingdom,
and the power, and the glory,
forever and eve. Amen.
DISTRIBUTION
In Holy Communion, the baptized children of God are invited by the Lord to the Lord's Table where we receive Jesus' very body and blood in, with, and under the bread and wine. We commune at the head of the aisle receiving the host and then moving to receive wine or grape juice by the individual cup. The ushers will direct you. Gluten free bread is available. If you wish to commune but cannot come forward, let an usher know and Pastor will come to you. For those who do not wish to commune, they are welcome to come forward to receive a blessing from Pastor.
BLESSING AFTER COMMUNION
PRAYER AFTER COMMUNION
Most High God, You have come among us at this table. Having been nourished, shape us so that we may be bears of your Word, sharing the gifts of mercy and grace with all through Christ Jesus your Son, our Lord.
Amen.
BENEDICTION HYMN
Canticle of the Turning
ELW 723
My soul cries out with a joyful shout
that the God of my heart is great,
and my spirit sings of the wondrous things
that you bring to the ones who wait.
You fixed your sight on your servant's plight,
and my weakness you did not spurn,
so from east to west shall my name be blest.
Could the world be about to turn?
Refrain
My heart shall sing of the day you bring.
Let the fires of your justice burn.
Wipe away all tears, for the dawn draws near,
and the world is about to turn.
Though I am small, my God, my all,
you work great things in me,
and your mercy will last from the depths of the past
to the end of the age to be.
our very name puts the proud to shame,
and to those who would for you yearn,
you will show your might, put the strong to flight,
for the world is about to turn. Refrain
From the halls of pow'r to the fortress tow'r,
not a stone will be left on stone.
Let the king beware for your justice tears
ev'ry tyrant from his throne.
The hungry poor shall weep no more,
for the food they can never earn;
there are tables spread, ev'ry mouth be fed,
for the world is about to turn. Refrain
Though the nations rage from age to age,
we remember who holds us fast:
God's mercy must deliver us
from the conqueror's crushing grasp.
This saving word that our forebears heard
is the promise which holds us bound,
till the spear and rod can be crushed by God,
who is turning the world around. Refrain
POSTLUDE
---
O Come, O Come, Emmanuel, Text: Psalteriolum Cantionum Catholicarum, Köln, 1710; tr. composite, Text sts. 2, 6, 7 © 1997 Augsburg Fortress. Text reprinted and/or streamed with permission under OneLicense A-722274. All rights reserved. Music: French processional, 15th cent. Public domain.
Kyrie, Music: Mass No. 1, Avon Gillespie. Music copy; GIA Publications, Inc. Reprinted and/or streamed with permission under OneLicense A-722274. All rights reserved.
Liturgical Text, Music, and Images from Evangelical Lutheran Worship, © 2006 and 2020 Augsburg Fortress and SundaysandSeasons.com. Reprinted and/or streamed with permission under Augsburg Fortress Liturgies License #SAS016761. All rights reserved.
Gospel Acclamation, Music: "Alleluia 7, Jacques Berthier, 1923-1994, and the Taizé Community. Music © 1984 Les Presses de Taizé, admin. GIA Publications, Inc. Reprinted and/or streamed with permission under OneLicense A-722274. All rights reserved.
Savior of the Nations, Come, Text: attr. Ambrose of Milan, 340-397; Martin Luther, 1483-1546; tr. hymnal version
Text © 2006 Augsburg Fortress. Text reprinted and/or streamed with permission under OneLicense A-722274. All right reserved. Music J. Walter, Geistliche Gesangbüchlein, 1524. Public domain.
Come to the Table, Text: Claire Cloninger, b. 1942. Music: Martin J. Nystrom, b. 1956. Text and Music © 1991 Integrity's Hosanna! Music | Curb Word Music, Text and music reprinted and/or streamed with permission under CCLI License # 2241477. All rights reserved.
Canticle of the Turning. Text: Rory Cooney, b. 1952, based on the Magnificat. Text © 1990 GIA Publications, Inc. Recorded and/or streamed with permission under OneLicense A-722274. All rights reserved. Music: Irish traditional. Public domain.