Christmas Day Morning Prayer

Christmas Day Morning Prayer
2021
Welcome
Hymn From Heaven Above
ELW 268 (vs. 1, 7, 8, 10)

"From heav'n above to earth I come
to bear good news to ev'ry home!
Glad tidings of great joy I bring
to all the world, and gladly sing:"

Look, look, dear friends, look over there!
What lies within that manger bare?
Who is that lovely little one?
The baby Jesus, God's dear Son.

Welcome to earth, O noble Guest,
through whom this sinful world is blest!
You turned not from our needs away;
how can our thanks such love repay?

Were earth a thousand times as fair
and set with gold and jewels rare,
still such a cradle would not do
to rock a prince so great as you.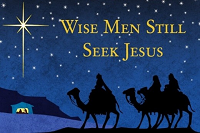 Opening Dialogue

O Lord, open my lips,
and my mouth shall proclaim your praise.

Glory to the Father and to the Son and to the Holy Spirit: as it was in the beginning is now and ever shall be. men.
Unto us a child is born
Unto us a son is given.
The government shall be upon his shoulder.
And his name shall be called Wonderful, Counselor,
Mighty God, Everlasting Father, Prince of Peace.
Of the increase of his government and of peace,
there will be no end.
He will sit on the throne of David and over his kingdom
to establish it and to uphold it with justice and righteousness
from this time forth and forever more.
The zeal of the Lord of hosts will do this.
Prayer of the Day
Almighty God, you gave us your only Son to take on our human nature and to illumine the world with your light. By your grace adopt us as your children and enlighten us with your Spirit, through Jesus Christ, our Redeemer and Lord, who lives and reigns with you and the Holy Spirit, one God, now and forever. Amen
Psalmody
Give glory to God our light and our life.
Oh, come, let us worship and praise.
Psalm 95:1-7a
O come, let us sing to the LORD;
let us make a joyful noise to the rock of our salvation!
Let us come into his presence with thanksgiving;
let us make a joyful noise to him with songs of praise!
For the LORD is a great God,
and a great King above all gods.
In his hand are the depths of the earth;
the heights of the mountains are his also.
The sea is his, for he made it,
and the dry land, which his hands have formed.
O come, let us worship and bow down,
let us kneel before the LORD, our Maker!
For he is our God,
and we are the people of his pasture,
and the sheep of his hand.
Psalm 67
May God be gracious to us and bless us
and make his face to shine upon us,
Selah
that your way may be known upon earth, your saving power among all nations.
Let the peoples praise you, O God;let all the peoples praise you.
Let the nations be glad and sing for joy,
for you judge the peoples with equity
and guide the nations upon earth.
Selah
Let the peoples praise you, O God;
let all the peoples praise you.
The earth has yielded its increase;
God, our God, has blessed us.
May God continue to bless us;
let all the ends of the earth revere him.
Gloria Patri
Glory to the Father and to the Son and to the Holy Spirit. As it was in the beginning is now and ever shall be. Amen.
Readings
Luke 2:8-20
In that region there were shepherds living in the fields, keeping watch over their flock by night. Then an angel of the Lord stood before them, and the glory of the Lord shone around them, and they were terrified. But the angel said to them, "Do not be afraid; for see — I am bringing you good news of great joy for all the people: to you is born this day in the city of David a Savior, who is the Messiah, the Lord. This will be a sign for you: you will find a child wrapped in bands of cloth and lying in a manger." And suddenly there was with the angel a multitude of the heavenly host, praising God and saying,
"Glory to God in the highest heaven,
and on earth peace among those whom he favors!"
When the angels had left them and gone into heaven, the shepherds said to one another, "Let us go now to Bethlehem and see this thing that has taken place, which the Lord has made known to us." So they went with haste and found Mary and Joseph, and the child lying in the manger. When they saw this, they made known what had been told them about this child; and all who heard it were amazed at what the shepherds told them. But Mary treasured all these words and pondered them in her heart. The shepherds returned, glorifying and praising God for all they had heard and seen, as it had been told them.
Titus 3:4-7
But when the goodness and loving kindness of God our Savior appeared, he saved us, not because of any works of righteousness that we had done, but according to his mercy, through the water of rebirth and renewal by the Holy Spirit. This Spirit he poured out on us richly through Jesus Christ our Savior, so that, having been justified by his grace, we might become heirs according to the hope of eternal life.
Reflection

Long ago God spoke to our ancestors in many and various ways by the prophets.
In these last days God has spoken to us by the Son.
Gospel Canticle
In the tender compassion of our God, the dawn from on high shall break upon us.
The Song of Zechariah
Blessed be the God of Israel
who comes to set us free
and raises up new hope for us:
a Branch from David's tree.
So have the prophets long declared
that with a mighty arm
God would turn back our enemies
and all who wish us harm.
With promised mercy will God still
the covenant recall,
the oath once sworn to Abraham,
from foes to save us all;
that we might worship without fear
and offer lives of praise,
in holiness and righteousness
to serve God all our days.
My child, as prophet of the Lord
you will prepare the way,
to tell God's people they are saved
from sin's eternal sway.
Then shall God's mercy from on high
shine forth and never cease
to drive away the gloom of death
and lead us into peace.
Prayers
Mighty God of mercy, we thank you for the resurrection dawn, bringing the glory of our risen Lord who makes every day new.
We thank you
for the sustaining goodness of your creation…
for the new creation in Christ and all gifts of healing and forgiveness…
for the gifts of relationship with others…
for the communion of faith in your Church…
Merciful God of might, renew this weary world, heal the hurts of all your children and bring about your peace for all in Christ Jesus, the living Lord.
We pray for
those who govern nations of the world…
the people in countries ravaged by strife or warfare…
for all who work for peace and international harmony…
for all who strive to save the earth from carelessness and destruction…
for the church of Jesus Christ in every land…
Heavenly Father, the needs of your people are great. Some of them we know and most of which we do not. Soften our hearts and open our minds to be responsive to others.
Be with those
who are in pain…
who are lonely…
who despair…
who rejoice at the wonders of life…
who seek your grace and mercy…
who need you the most and especially for those who think they need you the least…
Loving God, in your mercy you sent your Son that he may show us the way of love and grace. As we rejoice at his birth around the manger, give us courage to bear that love to the world you have made that all may come to love and praise him in unity with one another. In his holy name we pray. Amen.
Lord's Prayer
Our Father who art in heaven,
hallowed be thy name,
thy kingdom come,
thy will be done,
on earth as it is in heaven.
Give us this day our daily bread.
Forgive us our trespasses
as we forgive those
who trespass against us.
Lead us not into temptation
and deliver us from evil.
For thine is the kingdom, the power,
and the glory,
forever and ever. Amen.
Let us bless the Lord
Thanks be to God

Benediction
May you be filled with the wonder of Mary,
the obedience of Joseph,
the joy of the angels,
the eagerness of the shepherds,
the determination of the magi,
and the peace of the Christ child.
And may God, who is Father, +Son and Holy Spirit bless you
now and forever. Amen.

Hymn Let All Together Praise Our God
ELW 287 (vs. 1, 2, 5)

Let all together praise our God
before the highest throne;
today God opens heav'n again
and sends the only Son,
and sends the only Son.
From God's right hand the Son descends,
is born an infant small,
and lies in poverty, his bed
a manger in a stall,
a manger in a stall.
A wonderful exchange you make:
you take our flesh and blood,
and in return give us to share
the shining realm of God,
the shining realm of God.
---
From Heaven Above, Text: Martin Luther, 1483-1546; tr. Lutheran Book of Worship. Text © 1978 Lutheran Book of Worship, admin. Augsburg Fortress. Text reprinted and/or streamed with permission under OneLicense #A-722274. All rights reserved. Music: attr. Martin Luther; V. Schumann, Geistliche Lieder, 1539. Public domain.
Let All Together Praise Our God, Text: Nikolaus Herman, 1480-1521, text tr hymnal version. Text copy; 2006 Augsburg Fortress. Text reprinted and/or streamed with permission under OneLicense #A-722274. All rights reserved. Music: Nikolaus Heramn, Public domain.