Midweek Noon Prayer 03 02 2023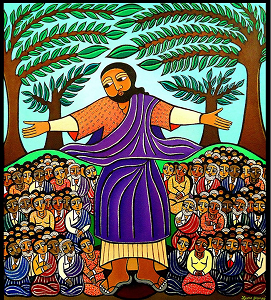 Praying the Sermon on the Mount
Lent Two 2023
March 2, 2023
Praying for "Reconciliation"

Call to Worship
It is good Lord to be in your holy house.
We come with joy.
We stand secure within.
Here we find peace and security and security
Because of your saving hand and strong right arm.
Always Lord we seek your goodness.
Prelude
Invocation and Dialogue
Behold, now is the acceptable time;
Now is the day of salvation.
Turn us again, O God of our salvation.
That the light of your face may shine on us.
May your justice shine like the sun;
And may the poor be lifted up.
Prayer of the Day
Holy One, in times long past, you called Abraham and Sarah and all our ancestors in faith and blessed them that they may be a blessing. Make us salt and light for the sake of the world that all may grow in faith, drawing closer to you and to each other. In the name of Jesus, Amen.
Hymn ELW 599 Lord Jesus, Think on Me
First Reading: Genesis 45 Joseph and His Brothers, a Story
1Then Joseph could no longer control himself before all those who stood by him, and he cried out, "Send everyone away from me." So no one stayed with him when Joseph made himself known to his brothers. 2And he wept so loudly that the Egyptians heard it, and the household of Pharaoh heard it. 3Joseph said to his brothers, "I am Joseph. Is my father still alive?" But his brothers could not answer him, so dismayed were they at his presence.
4Then Joseph said to his brothers, "Come closer to me." And they came closer. He said, "I am your brother, Joseph, whom you sold into Egypt. 5And now do not be distressed, or angry with yourselves, because you sold me here; for God sent me before you to preserve life. 6For the famine has been in the land these two years; and there are five more years in which there will be neither plowing nor harvest. 7God sent me before you to preserve for you a remnant on earth, and to keep alive for you many survivors. 8So it was not you who sent me here, but God; he has made me a father to Pharaoh, and lord of all his house and ruler over all the land of Egypt. 9Hurry and go up to my father and say to him, 'Thus says your son Joseph, God has made me lord of all Egypt; come down to me, do not delay. 10You shall settle in the land of Goshen, and you shall be near me, you and your children and your children's children, as well as your flocks, your herds, and all that you have. 11I will provide for you there — since there are five more years of famine to come — so that you and your household, and all that you have, will not come to poverty.' 12And now your eyes and the eyes of my brother Benjamin see that it is my own mouth that speaks to you. 13You must tell my father how greatly I am honored in Egypt, and all that you have seen. Hurry and bring my father down here." 14Then he fell upon his brother Benjamin's neck and wept, while Benjamin wept upon his neck. 15And he kissed all his brothers and wept upon them; and after that his brothers talked with him.
16When the report was heard in Pharaoh's house, "Joseph's brothers have come," Pharaoh and his servants were pleased. 17Pharaoh said to Joseph, "Say to your brothers, 'Do this: load your animals and go back to the land of Canaan. 18Take your father and your households and come to me, so that I may give you the best of the land of Egypt, and you may enjoy the fat of the land.' 19You are further charged to say, 'Do this: take wagons from the land of Egypt for your little ones and for your wives, and bring your father, and come. 20Give no thought to your possessions, for the best of all the land of Egypt is yours.'"
21The sons of Israel did so. Joseph gave them wagons according to the instruction of Pharaoh, and he gave them provisions for the journey. 22To each one of them he gave a set of garments; but to Benjamin he gave three hundred pieces of silver and five sets of garments. 23To his father he sent the following: ten donkeys loaded with the good things of Egypt, and ten female donkeys loaded with grain, bread, and provision for his father on the journey. 24Then he sent his brothers on their way, and as they were leaving he said to them, "Do not quarrel along the way."
25So they went up out of Egypt and came to their father Jacob in the land of Canaan. 26And they told him, "Joseph is still alive! He is even ruler over all the land of Egypt." He was stunned; he could not believe them. 27But when they told him all the words of Joseph that he had said to them, and when he saw the wagons that Joseph had sent to carry him, the spirit of their father Jacob revived. 28Israel said, "Enough! My son Joseph is still alive. I must go and see him before I die."
Psalm 133
1How very good and pleasant it is
when kindred live together in unity!
2It is like the precious oil on the head,
running down upon the beard,
on the beard of Aaron,
running down over the collar of his robes.
3It is like the dew of Hermon,
which falls on the mountains of Zion.
For there the LORD ordained his blessing,
life forevermore.
Gospel Reading: Matthew 5:38-48 (Retaliation and Enemies)4
38"You have heard that it was said, 'An eye for an eye and a tooth for a tooth.' 39But I say to you, Do not resist an evildoer. But if anyone strikes you on the right cheek, turn the other also; 40and if anyone wants to sue you and take your coat, give your cloak as well; 41and if anyone forces you to go one mile, go also the second mile. 42Give to everyone who begs from you, and do not refuse anyone who wants to borrow from you.
43"You have heard that it was said, 'You shall love your neighbor and hate your enemy.' 44But I say to you, Love your enemies and pray for those who persecute you, 45so that you may be children of your Father in heaven; for he makes his sun rise on the evil and on the good, and sends rain on the righteous and on the unrighteous. 46For if you love those who love you, what reward do you have? Do not even the tax collectors do the same? 47And if you greet only your brothers and sisters, what more are you doing than others? Do not even the Gentiles do the same? 48Be perfect, therefore, as your heavenly Father is perfect.
Reflection
Gospel Canticle
My soul proclaims the greatness of the Lord,
my spirit rejoices in God my Savior,
for you, Lord, have looked with favor on your lowly servant.
From this day all generations will call me blessed:
you, the Almighty, have done great things for me
and holy is your name.
You have mercy on those who fear you,
from generation to generation.
You have shown strength with your arm
and scattered the proud in their conceit,
casting down the mighty from their thrones
and lifting up the lowly.
You have filled the hungry with good things
and sent the rich away empty.
You have come to the aid of your servant Israel,
to remember the promise of mercy,
the promise made to our forebears,
to Abraham and his children forever.
Refrain:
My soul proclaims the greatness of the Lord,
my spirit rejoices in God my Savior.
Hymn O Christ, Our Hope (vs. 1, 2, 4) ELW 604
Nicene Creed
We believe in one God,
the Father, the Almighty,
maker of heaven and earth,
of all that is, seen and unseen.
We believe in one Lord, Jesus Christ,
the only Son of God,
eternally begotten of the Father,
God from God, Light from Light,
true God from true God,
begotten, not made,
of one Being with the Father;
through him all things were made.
For us and for our salvation
he came down from heaven,
was incarnate of the Holy Spirit and the virgin Mary
and became truly human.
For our sake he was crucified under Pontius Pilate;
he suffered death and was buried.
On the third day he rose again
in accordance with the scriptures;
he ascended into heaven
and is seated at the right hand of the Father.
He will come again in glory to judge the living and the dead,
and his kingdom will have no end.
We believe in the Holy Spirit, the Lord, the giver of life,
who proceeds from the Father and the Son,
who with the Father and the Son is worshiped and glorified,
who has spoken through the prophets.
We believe in one holy catholic and apostolic church.
We acknowledge one baptism for the forgiveness of sins.
We look for the resurrection of the dead,
and the life of the world to come. Amen.
Prayers of the People
In peace, let us pray to the Lord.
Lord, have mercy.
For the peace from above, and for all salvation, let us pray to the Lord.
Lord, have mercy.
For the peace of the whole world, for the well-being of the church of God, and for the unity of all, let us pray to the Lord.
Lord, have mercy.
For this holy house, and for all who offer here their worship and praise, let us pray to the Lord.
Lord, have mercy.
For the health of the creation, for abundant harvests that all may share, and for peaceful times, let us pray to the Lord.
Lord, have mercy.
For public servants, the government, and those who protect us; for those who work to bring peace, justice, healing, and protection in this and every place, let us pray to the Lord.
Lord, have mercy.
For those who travel, for those who are sick and suffering, and for those who are in captivity, let us pray to the Lord.
Lord, have mercy.
For deliverance in the time of affliction, wrath, danger, and need, let us pray to the Lord.
Lord, have mercy.
For all servants of the church, for this assembly, and for all people who await from the Lord great and abundant mercy, let us pray to the Lord.
Lord, have mercy.
Help, save, comfort, and defend us, gracious Lord.
Giving thanks for all who have gone before us and are at rest, rejoicing in the communion of all the saints, we commend ourselves, one another, and our whole life to you, through Christ our Lord.
To you, O Lord.
O God, from whom come all holy desires, all good counsels, and all just works: give to us, your servants, that peace which the world cannot give, that our hearts may be set to obey your commandments; and also that we, being defended from the fear of our enemies, may live in peace and quietness; through Jesus Christ our Savior, who lives and reigns with you and the Holy Spirit, God forever.
Amen.
Lord's Prayer (as written in Matthew)
Our Father in heaven,
may your name be revered as holy.
May your kingdom come.
May your will be done
on earth as it is in heaven.
Give us today our daily bread.
And forgive us our debts,
as we also have forgiven our debtors.
And do not bring us to the time of trial,
but rescue us from the evil one.
Amen.
Benediction