Midweek Noon Prayer 03 09 2023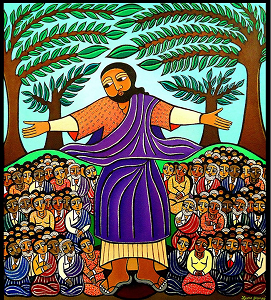 Praying the Sermon on the Mount
Lent Three
March 9, 2023
Praying for "Calm"

Call to Worship
Lord, you are our refuge and our fortress
In you we trust
Lord, you are our dwelling place
You are the most high.
Lord, you are always close to us
You are with us in trouble and answer when we call.
Prelude
Invocation and Dialogue
Behold, now is the acceptable time;
Now is the day of salvation.
Turn us again, O God of our salvation.
That the light of your face may shine on us.
May your justice shine like the sun;
And may the poor be lifted up.
Prayer of the Day
Lord, you are our refuge and our strength. Exchange our worry over the many worries and distractions in our lives so that we may instead be filled with your peace, the peace that surpasses our human understanding. Help us by the power of your Holy Spirit to see you first in all things. Through Christ Our Lord, Amen.
Hymn
In the Cross of Christ I Glory
ELW 324 (vs. 1, 4)
In the cross of Christ I glory,
tow'ring o'er the wrecks of time.
All the light of sacred story
gathers round its head sublime.
Bane and blessing, pain and pleasure,
by the cross are sanctified;
peace is there that knows no measure,
joys that through all time abide.
First Reading: Exodus 13:21-22; 14:10-14
13:21The LORD went in front of them in a pillar of cloud by day, to lead them along the way, and in a pillar of fire by night, to give them light, so that they might travel by day and by night. 22Neither the pillar of cloud by day nor the pillar of fire by night left its place in front of the people.
14:10As Pharaoh drew near, the Israelites looked back, and there were the Egyptians advancing on them. In great fear the Israelites cried out to the LORD. 11They said to Moses, "Was it because there were no graves in Egypt that you have taken us away to die in the wilderness? What have you done to us, bringing us out of Egypt? 12Is this not the very thing we told you in Egypt, 'Let us alone and let us serve the Egyptians'? For it would have been better for us to serve the Egyptians than to die in the wilderness." 13But Moses said to the people, "Do not be afraid, stand firm, and see the deliverance that the LORD will accomplish for you today; for the Egyptians whom you see today you shall never see again. 14The LORD will fight for you, and you have only to keep still."
Psalm 91
1You who live in the shelter of the Most High,
who abide in the shadow of the Almighty,
2will say to the LORD, "My refuge and my fortress;
my God, in whom I trust."
3For he will deliver you from the snare of the fowler
and from the deadly pestilence;
4he will cover you with his pinions,
and under his wings you will find refuge;
his faithfulness is a shield and buckler.
5You will not fear the terror of the night,
or the arrow that flies by day,
6or the pestilence that stalks in darkness,
or the destruction that wastes at noonday.
7A thousand may fall at your side,
ten thousand at your right hand,
but it will not come near you.
8You will only look with your eyes
and see the punishment of the wicked.
9Because you have made the LORD your refuge,
the Most High your dwelling place,
10no evil shall befall you,
no scourge come near your tent.
11For he will command his angels concerning you
to guard you in all your ways.
12On their hands they will bear you up,
so that you will not dash your foot against a stone.
13You will tread on the lion and the adder,
the young lion and the serpent you will trample under foot.
14Those who love me, I will deliver;
I will protect those who know my name.
15When they call to me, I will answer them;
I will be with them in trouble,
I will rescue them and honor them.
16With long life I will satisfy them,
and show them my salvation.
Gospel Reading: Matthew 6:24-33
24"No one can serve two masters; for a slave will either hate the one and love the other, or be devoted to the one and despise the other. You cannot serve God and wealth.
25"Therefore I tell you, do not worry about your life, what you will eat or what you will drink, or about your body, what you will wear. Is not life more than food, and the body more than clothing? 26Look at the birds of the air; they neither sow nor reap nor gather into barns, and yet your heavenly Father feeds them. Are you not of more value than they? 27And can any of you by worrying add a single hour to your span of life? 28And why do you worry about clothing? Consider the lilies of the field, how they grow; they neither toil nor spin, 29yet I tell you, even Solomon in all his glory was not clothed like one of these. 30But if God so clothes the grass of the field, which is alive today and tomorrow is thrown into the oven, will he not much more clothe you — you of little faith? 31Therefore do not worry, saying, 'What will we eat?' or 'What will we drink?' or 'What will we wear?' 32For it is the Gentiles who strive for all these things; and indeed your heavenly Father knows that you need all these things. 33But strive first for the kingdom of God and his righteousness, and all these things will be given to you as well.
Reflection
Gospel Canticle
My soul proclaims the greatness of the Lord,
my spirit rejoices in God my Savior,
for you, Lord, have looked with favor on your lowly servant.
From this day all generations will call me blessed:
you, the Almighty, have done great things for me
and holy is your name.
You have mercy on those who fear you,
from generation to generation.
You have shown strength with your arm
and scattered the proud in their conceit,
casting down the mighty from their thrones
and lifting up the lowly.
You have filled the hungry with good things
and sent the rich away empty.
You have come to the aid of your servant Israel,
to remember the promise of mercy,
the promise made to our forebears,
to Abraham and his children forever.
Refrain:
My soul proclaims the greatness of the Lord,
my spirit rejoices in God my Savior.
Hymn
My Life Flows On in Endless Song
ELW 763 (vs. 1, 2, 4)
My life flows on in endless song;
above earth's lamentation,
I catch the sweet, though far-off hymn
that hails a new creation.
Refrain
No storm can shake my inmost calm
while to that Rock I'm clinging.
Since Christ is Lord of heaven and earth,
how can I keep from singing?
Through all the tumult and the strife,
I hear that music ringing.
It finds an echo in my soul.
How can I keep from singing? Refrain
The peace of Christ makes fresh my heart,
a fountain ever springing!
All things are mine since I am his!
How can I keep from singing? Refrain
Nicene Creed
We believe in one God,
the Father, the Almighty,
maker of heaven and earth,
of all that is, seen and unseen.
We believe in one Lord, Jesus Christ,
the only Son of God,
eternally begotten of the Father,
God from God, Light from Light,
true God from true God,
begotten, not made,
of one Being with the Father;
through him all things were made.
For us and for our salvation
he came down from heaven,
was incarnate of the Holy Spirit and the virgin Mary
and became truly human.
For our sake he was crucified under Pontius Pilate;
he suffered death and was buried.
On the third day he rose again
in accordance with the scriptures;
he ascended into heaven
and is seated at the right hand of the Father.
He will come again in glory to judge the living and the dead,
and his kingdom will have no end.
We believe in the Holy Spirit, the Lord, the giver of life,
who proceeds from the Father and the Son,
who with the Father and the Son is worshiped and glorified,
who has spoken through the prophets.
We believe in one holy catholic and apostolic church.
We acknowledge one baptism for the forgiveness of sins.
We look for the resurrection of the dead,
and the life of the world to come. Amen.
Prayers of the People
In peace, let us pray to the Lord.
Lord, have mercy.
For the peace from above, and for all salvation, let us pray to the Lord.
Lord, have mercy.
For the peace of the whole world, for the well-being of the church of God, and for the unity of all, let us pray to the Lord.
Lord, have mercy.
For this holy house, and for all who offer here their worship and praise, let us pray to the Lord.
Lord, have mercy.
For the health of the creation, for abundant harvests that all may share, and for peaceful times, let us pray to the Lord.
Lord, have mercy.
For public servants, the government, and those who protect us; for those who work to bring peace, justice, healing, and protection in this and every place, let us pray to the Lord.
Lord, have mercy.
For those who travel, for those who are sick and suffering, and for those who are in captivity, let us pray to the Lord.
Lord, have mercy.
For deliverance in the time of affliction, wrath, danger, and need, let us pray to the Lord.
Lord, have mercy.
For all servants of the church, for this assembly, and for all people who await from the Lord great and abundant mercy, let us pray to the Lord.
Lord, have mercy.
Help, save, comfort, and defend us, gracious Lord.
Giving thanks for all who have gone before us and are at rest, rejoicing in the communion of all the saints, we commend ourselves, one another, and our whole life to you, through Christ our Lord.
To you, O Lord.
O God, from whom come all holy desires, all good counsels, and all just works: give to us, your servants, that peace which the world cannot give, that our hearts may be set to obey your commandments; and also that we, being defended from the fear of our enemies, may live in peace and quietness; through Jesus Christ our Savior, who lives and reigns with you and the Holy Spirit, God forever.
Amen.
Lord's Prayer (Matthew 6:9-13)
Our Father in heaven,
may your name be revered as holy.
May your kingdom come.
May your will be done
on earth as it is in heaven.
Give us today our daily bread.
And forgive us our debts,
as we also have forgiven our debtors.
And do not bring us to the time of trial,
but rescue us from the evil one.
Amen.
Benediction