Midweek Noon Prayer 03 16 2023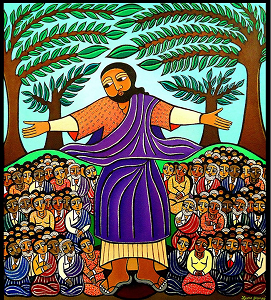 Praying the Sermon on the Mount
Lent Three
March 16, 2023
Praying for "Trust"

Call to Worship
We give you thanks O Lord with our whole heart
We give you thanks for your steadfast love and faithfulness.
Lord, when we called you answered us
You increased the strength of our soul
We will sing of the ways of the Lord
For God's steadfast love endures forever,.
Prelude
Invocation and Dialogue
Behold, now is the acceptable time;
Now is the day of salvation.
Turn us again, O God of our salvation.
That the light of your face may shine on us.
May your justice shine like the sun;
And may the poor be lifted up.
Prayer of the Day
O God, you love to provide for your children. Make us ever eager to turn to you in prayer trusting that you will hear us and will provide what we need. We pray this in the name of your Son, Jesus Christ who is our Lord. Amen.
Hymn
As the Deer Runs to the River
ELW 331
As the deer runs to the river,
parched and weary from the chase,
we have come from hurt and hurry,
thirsting for your healing grace.
Refrain
Jesus, source of living water,
may we drink of you and live!
When your Israel crossed the desert
where no stream or spring was seen,
Moses struck the rock, and water
flowed for them, refreshing, clean. Refrain
"Come and drink," Isaiah summoned,
"all who for God's mercy plead!
God's forgiveness, like a fountain,
flows to satisfy your need." Refrain
Christ, we come from desert places,
deepest thirst unsatisfied.
Lead us to the waters flowing
from the cross on which you died. Refrain
First Reading: Genesis 18:16-23
16Then the men set out from there, and they looked toward Sodom; and Abraham went with them to set them on their way. 17The LORD said, "Shall I hide from Abraham what I am about to do, 18seeing that Abraham shall become a great and mighty nation, and all the nations of the earth shall be blessed in him? 19No, for I have chosen him, that he may charge his children and his household after him to keep the way of the LORD by doing righteousness and justice; so that the LORD may bring about for Abraham what he has promised him." 20Then the LORD said, "How great is the outcry against Sodom and Gomorrah and how very grave their sin! 21I must go down and see whether they have done altogether according to the outcry that has come to me; and if not, I will know."
22So the men turned from there, and went toward Sodom, while Abraham remained standing before the LORD. 23Then Abraham came near and said, "Will you indeed sweep away the righteous with the wicked?"
Psalm 138
1I give you thanks, O LORD, with my whole heart;
before the gods I sing your praise;
2I bow down toward your holy temple
and give thanks to your name for your steadfast love and your faithfulness;
for you have exalted your name and your word
above everything.
3On the day I called, you answered me,
you increased my strength of soul.
4All the kings of the earth shall praise you, O LORD,
for they have heard the words of your mouth.
5They shall sing of the ways of the LORD,
for great is the glory of the LORD.
6For though the LORD is high, he regards the lowly;
but the haughty he perceives from far away.
7Though I walk in the midst of trouble,
you preserve me against the wrath of my enemies;
you stretch out your hand,
and your right hand delivers me.
8The LORD will fulfill his purpose for me;
your steadfast love, O LORD, endures forever.
Do not forsake the work of your hands.
Gospel Reading: Matthew 7:7-11
7"Ask, and it will be given you; search, and you will find; knock, and the door will be opened for you. 8For everyone who asks receives, and everyone who searches finds, and for everyone who knocks, the door will be opened. 9Is there anyone among you who, if your child asks for bread, will give a stone? 10Or if the child asks for a fish, will give a snake? 11If you then, who are evil, know how to give good gifts to your children, how much more will your Father in heaven give good things to those who ask him!
Reflection
Hymn
My Faith Looks Up to Thee
ELW 759
My faith looks up to thee,
thou Lamb of Calvary,
Savior divine!
Now hear me while I pray,
take all my guilt away,
oh, let me from this day
be wholly thine!
May thy rich grace impart
strength to my fainting heart,
my zeal inspire;
as thou hast died for me,
oh, may my love to thee
pure, warm, and changeless be,
a living fire!
While life's dark maze I tread
and griefs around me spread,
be thou my guide;
bid darkness turn to day,
wipe sorrow's tears away,
nor let me ever stray
from thee aside.
When ends life's transient dream,
when death's cold, sullen stream
shall o'er me roll;
blest Savior, then, in love
fear and distrust remove;
oh, bear me safe above,
a ransomed soul!
Prayers of the People
In peace, let us pray to the Lord.
Lord, have mercy.
For the peace from above, and for all salvation, let us pray to the Lord.
Lord, have mercy.
For the peace of the whole world, for the well-being of the church of God, and for the unity of all, let us pray to the Lord.
Lord, have mercy.
For this holy house, and for all who offer here their worship and praise, let us pray to the Lord.
Lord, have mercy.
For the health of the creation, for abundant harvests that all may share, and for peaceful times, let us pray to the Lord.
Lord, have mercy.
For public servants, the government, and those who protect us; for those who work to bring peace, justice, healing, and protection in this and every place, let us pray to the Lord.
Lord, have mercy.
For those who travel, for those who are sick and suffering, and for those who are in captivity, let us pray to the Lord.
Lord, have mercy.
For deliverance in the time of affliction, wrath, danger, and need, let us pray to the Lord.
Lord, have mercy.
For all servants of the church, for this assembly, and for all people who await from the Lord great and abundant mercy, let us pray to the Lord.
Lord, have mercy.
Help, save, comfort, and defend us, gracious Lord.
Giving thanks for all who have gone before us and are at rest, rejoicing in the communion of all the saints, we commend ourselves, one another, and our whole life to you, through Christ our Lord.
To you, O Lord.
O God, from whom come all holy desires, all good counsels, and all just works: give to us, your servants, that peace which the world cannot give, that our hearts may be set to obey your commandments; and also that we, being defended from the fear of our enemies, may live in peace and quietness; through Jesus Christ our Savior, who lives and reigns with you and the Holy Spirit, God forever.
Amen.
Lord's Prayer (Matthew 6:9-13)
Our Father in heaven,
may your name be revered as holy.
May your kingdom come.
May your will be done
on earth as it is in heaven.
Give us today our daily bread.
And forgive us our debts,
as we also have forgiven our debtors.
And do not bring us to the time of trial,
but rescue us from the evil one.
Amen.
Benediction
---
As the Deer Runs to the River, Text: Herman G. Stuempfle Jr., 1923-2007. Text © 2002 GIA Publications, Inc., Music: David Hurd, b. 1950. Music © 1983 GIA Publications, Inc. Reprinted and/or streamed with permission under OneLicense #A-722274. All rights reserved.
My Faith Looks Up to Thee, Text: Ray Palmer, 1808-1887, Music: Lowell Mason, 1782-1872. Public domain.